One thousand ways of demographic storytelling: How 4cities students view urban populations
6.9.2012 by ramon bauer
It can be a tough job to present a demographic story, especially when trying to attract the attention of an audience beyond academia. See how master students in Urban Studies approached the task of presenting urban demographic profiles, in fact without boring you to death.
Demographic topics are usually depicted as problems in the public media, often reduced to the negative implications of ageing, too low or too high fertility rates and migration. Of course, such a constrained way of viewing demography is unreasonable. But maybe such a biased representation of population issues must be also contributed to the way how, in general, people working in the wide field of population studies are presenting their research results? Yes, we all like population pyramids, but we also like great stories, especially if they are nicely told and illustrated.
I am in the great position to regularly enjoy some exceptional presentations of demographic city profiles, since I am lecturing a course in Basic Demography for students of the 4cities Erasmus Mundus programme in Urban Studies at the University of Vienna. The various backgrounds of the 4cities students cover the wide field of Urban Studies: from Geography to Economics, from Sociology to Architecture, from Planning to Journalism, from Politics to Performance Studies, and so on.
Like in any other university course, also my students have to prove the skills learned during the semester in order to earn their grades; in this course by presenting an urban demographic analysis and elaborating a final report. However, I encourage this truly interdisciplinary bunch of students to combine their newly acquired skills with their own creativity. In brief, their task was to embed personal professional interests – e.g. housing, integration, civil participation, spatial and social perception, urban culture and fabric, etc. – in the demographic analyses and to present it in a way that would attract their targeted audience, without being too much restricted by too many academic obstacles. In my opinion, this approach proved to be rather fruitful. A selection of demographic city profiles elaborated by this year's 4citizens demonstrate that demographic information can (also) be conveyed by means of a smart graphic, short story, blog or piece of art.
Madrid – from boom to crisis
This presentation of Madrid by Nina Fräser and Elena Hernández Cuñat outline how the economic and demographic boom of the late 1990s and early 2000s were intertwined and point out that the economic crisis might pave the way for a demographic crisis. The gains through net migration were plummeting in 2008 and population growth is literally stalling since then. But what might happen when the crisis persists and especially the young and well educated start to leave the city and country behind in even greater numbers? – a topic that was already addressed in a previous METROPOP post.
Thumbs up for the appealing hand-drawn charts and figures!
Berlin – another bear in the wall
This well-illustrated demographic short story by Alice Etropolszky and Agata Walny about two Polish bears (father and son) – yes! this is actually a cute story – strolling around Berlin in search for a cosy place to spend hibernation. In doing so, they discover the city's demographic structural and socio-spatial particularities. Please note that population pyramids and trend charts, indeed, can be made with "Gummibärchen" (gummy bears).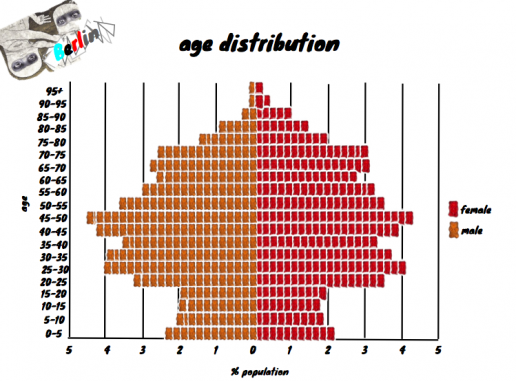 Leipzig – a city beyond shrinking
Jonas Aebi and Vanessa Hünnemeyer used a blog to elaborate and present their demographic analysis of Leipzig – from a shrinking city to a globally competing city. Their work focuses on urban policies in response to the significant demographic changes in the aftermath of the German reunification. Special emphasis is placed on the restructuring of the housing situation: from privatisation to destruction and from destruction to reconstruction, highlighting the specific situation in Leipzig West.
Gaza – the refugee city
This ambitious analysis by Liam Duffy and Mai Kjølsen unveils the sheer impossibility of a city that is, as a matter of fact, the world's largest refugee camp – an isolated and heteronomous high density territory that is populated almost exclusively by displaced persons and their children and children's children. Social circumstances such as (un)employment, poverty and education are addressed and connected to relevant demographic topics such as fertility and conflict. The final report was submitted in the form of a "demographic cluster bomb", filled with neatly rolled and bound papers for each chapter.