Mapping two faces of the 2015 Vienna elections
12.10.2015 by ramon bauer
authored by Ramon Bauer & Tina Frank (updated 2016-09-21*)
Vienna went to the polls yesterday (on 11 October 2015). The city's electorate had to cast its vote twice, for the city council as well as for the city's 23 district councils.
We mapped the 2015 Vienna election results of the citywide elections (left) as well as the results of the district councils (right) in each of the city's 23 districts. Both maps show the winning party as well as the second party in each district.
One city, two political landscapes?
Two factors might have contributed to the slightly different results at the city council elections and the district councils elections. First, at the citywide level only Austrian nationals older than 16 years are eligible to vote, while at the district level also EU citizens are enfranchised. Second, many seem to have split their votes strategically at both levels of representation.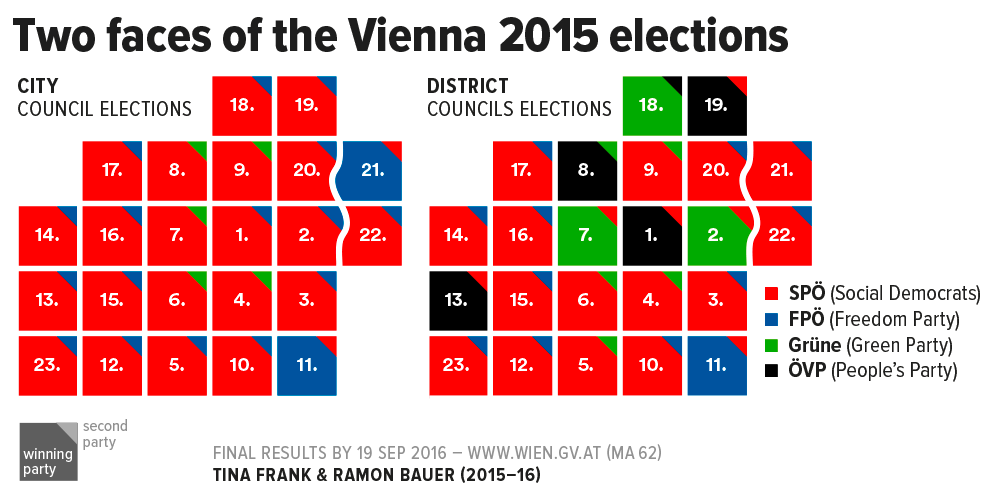 *Addendum 2016-09-21:
Almost one year after the 2015 elections, a rerun of the district council elections in Vienna's 2nd district took place on 18 September 2016. Surprisingly, this time the Green Party gained the most votes in the district relegating the Social Democrats to second place.
Data source:
See also:
Interactive data map of Vienna's electorate gap, district by district (2015-09-17) – Data visualisation by Ramon Bauer, Tina Frank, Michael Holzapfel and Clemens Schrammel.
Vienna electorate – A collection of Metropop contributions to the topic of Vienna's shrinking electorate.